About MT Training Services – Specialist Driving Training
MT Training Services was established in 2007 by Tony Collinson and has grown from strength to strength over the years, supplying specialist driver training across the country. Our head office in Tewkesbury is a DVLA approved customer site, meaning DVSA examiners conduct tests from our facilities, making training precise and cost-effective. We also have DVSA sites in Taunton, Kidderminster and Birmingham, and are continually working along side the DVSA to develop more registered sites. With a modern fleet of over 25 vehicles which we are constantly adding to and keeping up to date, we can deliver all categories of vocational training, meeting the ever-growing requirements of both corporate and individual customers.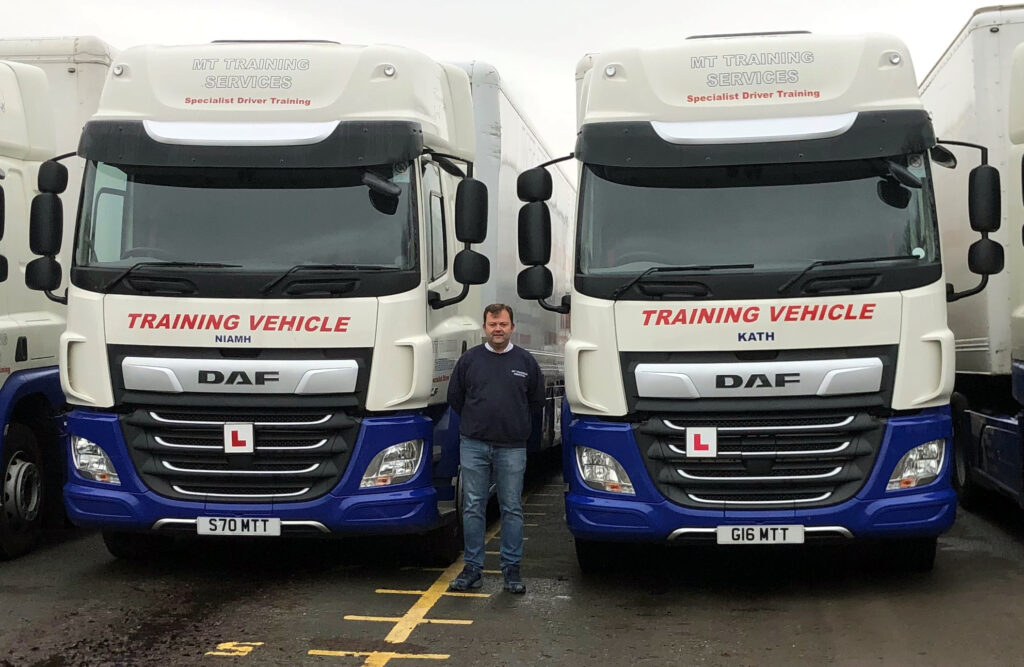 Current Locations
Plymouth
Taunton
Bristol
Newbury
Tewkesbury
Kidderminster
Birmingham
Manchester
Wetherby
Skelmersdale
We have also developed our 'roaming training' idea which allows us to run courses direct for organisations throughout the country where we don't have full time facilities, we basically move our training school to them!
In 2018 we joined forces with Passtime Driver training in turn taking their site over and have been busy building the business in that area working alongside Tracy who joined us as a full time instructor.
We are constantly developing our instructor training packages and are set-up as an exam centre through the NRI, as well as having the ability to deliver CPC training nationally.
The MT Training team both our instructors, scheduling / planning and business relationship team are the best in the industry. We ensure internal training and development keeps us up-to-date with the ever-changing legislation. We have expanded to be the UK's premier LGV / PCV training provider without compromising quality with consistently presenting candidates to over 2000 driving tests a year, operating 7 days a week and a fleet of 25 vehicles spread over a 500+ mile radius.
MT Training Services has developed a fantastic reputation over the years with excellent first-time pass rates. We have certain parts of the business which are specifically tailored to customer requirements such as working with many local haulage / PCV operators – ensuring training is kept to the highest standard, but also cost-effective and we able to keep up with the highest of demand.
We have developed ourselves over the years to be confident in delivering contacts both big and small, we are amongst the few organisations who provide a nationwide coverage and are regularly requested to assist other organisations we work closey alongside with their large volumes.
We are also renowned for C1 training for the emergency services and work alongside many organisations, such as South Western Ambulance Services and South Central Ambulance Services. We offer a discounted C1 training package to both existing and potential emergency service staff. Our D1 minibus training is also very popular for large organisations and individuals alike and can be flexible to run alongside their specific requirements.
MT Training Services is constantly looking for the next challenge and will always be looking to strive forward within ever changing industry, we see no job to big or too small and will present ourselves in frount of every opportunity possible. Our business development team is constantly preparing bids and tenders of new challenges assisting in the ever apparent growth of the organisation.